Starting and sustaining a business is business on its own!
Research has it that about two- thirds of small businesses survive at least 2 years and about half survive at least 5 years. As expected, after the first few relatively volatile years, survival rates flatten out. (Source: Bureau of Labor Statistcs, Business Employment Dynamic).
Another Research says 8 out of 10 small businesses fail within the first 18 months.
SMEs (Small and Medium Enterprise) are products of dreams, usually driven by ambition and passion. Being a 'small' Business means there a lots of 'BIG' challenges that come and  If you live in Nigeria, the factors working against the development and growth of your local small businesses are quite numerous, some of which include:
Lack of very affordable Infrastructural facilities. This included includes electricity, good road network and reliable internet service. Unfortunately, Business owners are left to provide these for themselves.
Harsh declining macroeconomic environment and system has negatively affected the performance of small businesses and has posed as a major challenge to their sustainability, growth and development. Most small businesses struggle with the issue of uncertainty caused by the unfriendly policy shifts and macroeconomic environment.
Funding and having access to short or long term loan is another problem SMEs have in Nigeria. Banks hardly offer friendly loan policies to small businesses thereby reducing their (small businesses) ability to ride on the advantages of loans with little interest rate.
Poor Financial Management is a serious clog in the survival of small businesses as lack of required financial intelligence in business leads to wrong, costly decisions, mismanagement and eventual collapse of a small business. Entrepreneurs often blame their failures on low sales. However, the problem lies with poor financial skills.
Inadequate SWOT Analysis is another challenge as most entrepreneurs go into business without proper planning and realistic study of what their strengths and weaknesses are, let alone giving careful consideration and analyzing the economic trends or business conditions of that particular business industry.
Regardless of the aforementioned challenges, according to the Central Bank of Nigeria report (2003), SMEs are still a very important economic catalyst in developing and industrialized countries. Infact, Recent studies have shown that SMEs contribute to over 55% of GDP and over 65% of total employment in high-income countries also that SMEs and informal enterprises account for over 60% of GDP and over 70%of total employment in middle-income countries (OECD, 2004).
The Question now is; What are the solutions to ease these challenges include? What are the best service provides for small businesses?
The need for Government to provide the necessary physical and financial infrastructures to ease these burdens to encourage and promote small businesses cannot be overemphasized as well as the need to create a stable macroeconomic environment that is stable to will enable these local businesses to make reasonable forecasts on costs, turnover, and return on investment.
Knowledge and Implementation of Sales as well as Marketing strategies to boost business operations which will lead to higher ROI. At the initial stages, most new small business entrepreneurs do not have the know-how to deal with marketing and as it is, marketing is one of the important things to focus on when developing a business. Questions like 'Should you employ SEO (Search Engine Optimization) or PPC (Pay Per Click) for Digital Marketing campaigns' 'What Platform is best to market my brand' would pop up. To actually know what works best, an entrepreneur would need to test things out and, most importantly, ask your customers how they heard about you. Knowing exactly how you attracted each customer will help you focus on the marketing efforts that work well for you. It's also important to stay in touch with Digital platforms in vogue. Effective marketing is key to increasing sales. There are many inexpensive ways to market your products and services. Cold Calling  is one of them that still works
Business owners should take proper SWOT Analysis i.e Strength, Weakness, Opportunities and Threats. A SWOT Analysis is a study undertaken by an organization to identify its internal strengths and weaknesses, as well as its external opportunities and threats. A proper SWOT Analysis sees an Entrepreneur's strengths and weaknesses before delving into any business or Industry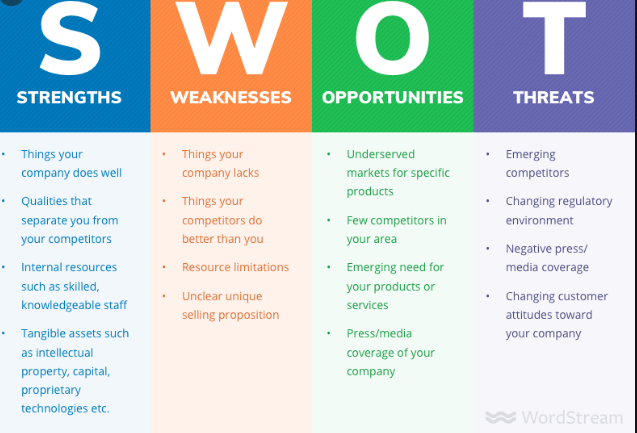 Talent Recruitment
A business is only as good as the employees. Talent recruitment isn't just about getting the best people and trying to make them work, but recruiting people that will naturally fit with the DNA of a Business. Attracting and retaining the right talent is one of the most important process an entrepreneur can do. Successful businesses hire quality staff and keep them for the long term. You don't want your customers having to deal with a different receptionist every other month. It is also worthy to note that that the greatest ambassadors for your company are your employees.
5. PR and Communication
Public relations is an invaluable skill that can help attract and retain qualified Leads that turn to Clients. It describes the actions a business or organization takes to shape perceptions of its brand and develop relationships with its customer base, target audience, partners, and other important stakeholders. Most have a vague understanding of what public relations mean, and many even have a slight idea of what goes into it and the benefits it offers businesses. Very few, however, understand the true impact it has.
Social Media Management
Social media is getting complex day by day. One minute ago, we were still on the Cruise of Instagram until Tik Tok came. One minute ago, we were just occupants of Whatspp until  Whatsapp for Business came. On and On, the list is endless. Harder and Harder for businesses to ignore. The more time passes, the more we see examples of businesses of all types getting great results online. If your business is seeking long term growth, building a great presence on social media is a great way to achieve that. Now there are many social media tools in the digital market, but be sure you are on the right platform with the right messaging and content strategy.
Customer Service
According to a study by New Voice Media, 51% of customers will not repeat business with a company after a bad service experience. Other studies have shown that it takes several  positive customer experiences to make up for one negative one. Keeping loyal customers is less expensive than getting new ones. Besides, it costs about five times more to attract new  customers than to retain existing ones. Satisfied customers become devoted buyers when a business is trustworthy and provides good customer service.
Given that loyal customers make a much easier sell, make good customer service a priority. Examine your current customer satisfaction process and make the changes that need to be made to ensure that your small business is providing a better service to that of your competitors. You may need to invest in staff training, revamp your return policy, or make basic improvements such as responding promptly to calls or emails from customers.
Build Your Online Presence
Having a professional-looking website or landing page should be a priority as a business owner.  Research from the E-commerce Wiki indicates that 88% of consumers now research purchases online before purchasing in a store. You don't want your business to be found 'missing' when your prospective clients come looking for you online.
Create a simple landing page or website that describes who you are, what you do, and how to contact you. At the barest minimum, your site should contain:
Your logo
Your business name
A summary of what you do—your products and services
Your contact information
Your address, including a Google Maps link
Your mission/ vision
Testimonials from customers
9. After all is said and done and is still being done, you would need to learn how to take it easy and not be hard on yourself. Remember Rome was not built in a day. Neither was Amazon. Just calm down.